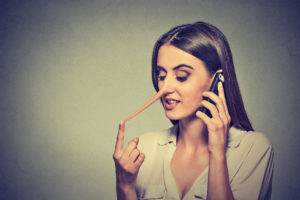 On behalf of an appreciated client, we interviewed a job applicant who claimed to be an "excellent" speller regarding a criterion listed in an Administrative Assistant vacancy.
During the telephonic pre-screening, naturally, the applicant was requested to reflect that excellence when asked to spell initiative, environment, and accommodation.
When the applicant was kindly thanked for her time after misspelling all three words, she retorted that she could not be expected to spell "on the spot" therein indicating that she needed a spell checker, or prep time in which to demonstrate her asserted 'excellence.'
When she was reminded that the résumé she submitted two days prior claimed spelling 'excellence,' she (thankfully) hung up the phone.
__________
According to Career Builder, 57% of job applicants embellish their skill sets; 58% of hiring managers catch lies on résumés; and 51% of hiring managers state that they automatically dismiss candidates if they catch lies on résumés.
___________
Too often job applicants "stretch" their capabilities to get jobs. However, unless a vacancy announcement states that education or other criteria can be substituted for requested skills, assume that an intuitive hiring manager WILL test you during an interview, thus….
if you absolutely cannot program in Java, or the closest you have come to embedding codes in MS Excel is using a Dollar Tree calculator, apply for positions where you can compete and succeed…"on the spot."     🙂
Have a well-worded day:
Professionally Written, L.L.C.
Web:  https://www.pw-thebest.com