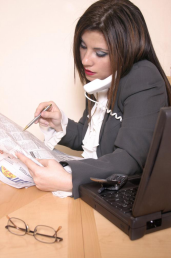 Are you approaching a job search? Remember, a positive attitude will go a long way in helping you find good opportunities and get the most from them.
Regardless of your place in the corporate hierarchy and your circumstances, job searching can be challenging in the best of times.
Maintaining a positive attitude during these trying times is the nexus of an excellent support system that goes beyond friends and family.
Here are some of the best, tried-and-tested tips to help you ace a job search:
Manage Your Time Effectively
Develop a plan, stick to a schedule, and methodically contact employer after employer until you have achieved your goals. While it is easier said than done, mapping out activities that need to be done every day will help you ensure that your energy does not go wasted and you are working on things that will actually lead to results.
Continue the habit of creating routines even when you are employed and your bosses will love you for it!
Take Care of Important Business First
Just because you are looking for a job does not mean you can ignore your current personal and professional obligations. If you currently have a job, make sure that your job searches do not jeopardize your present situation.
Do not use the resources of your current employer to look for or send messages to a prospective employer. If you do not have a job, it is possible to devote more time and energy to the job search. However, make sure you have budgeted well for the essentials of life, and that you do not undertake unnecessary expenditures.
Have the Right Tools at Your Disposal
Many HR officers have been known to throw away résumés simply because they did not like what they saw on paper. A great looking CV and cover letter can help you stand apart from other prospective employees.
Develop polished interview skills that will help you communicate with the employer and learn more about their motivations while communicating yours successfully. Solid references can also have a positive impact on future employers. It is a good idea to have references handy from past managers and other professionals in your industry.